A WINTER MORNING
After the Painting by Joseph Nash, R. I.
(Great Britain)
Etched by Gaston A. Manchon
Tissue Guard

Larger images: 750x500 pixels or 1500x1000 pixels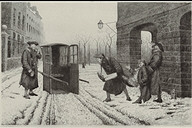 "Under this apparently innocent title the sarcastic painter has concealed a malicious little reference to the manners and customs of our ancestors, - doubly malicious if we consider the time of day. That this cheerful gentleman should be in the state in which he evidently is, in the morning, can only be accounted for on the supposition that his libations have been prolonged throughout the entire night. Else would soothing unconsciousness have overtaken him long ere this winter dawn. In his other three water-colors, Mr. Nash - whose signature has long been familiar to the readers of the illustrated London "Graphic" - takes up more serious themes. Two of them, "A Winter Sunset, Ben Nevis" and "After the Gale," are landscape studies, the third, "The Haunted Chamber," is a very clever ghost-story illustration in color. The last two pictures are noticeable for their prevalence of gray tones, - the English water-colorists not generally running to robustness of color."