The Result of High Living
Painted by Frederick Hall
(Great Britain)

Larger images: 750x500 pixels or 1500x1000 pixels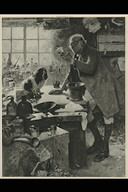 "It is not often that the fondness of the British painters for illusive and literary titles to their pictures is so well justified as in this case. The humor of this very quiet but somewhat ominous scene is distinctly increased by the didactic phrase which the artist used to identify it and which would naturally lead us to expect a very different bon vivant The present patient, however, is a white and tan King Charles spaniel, and the look of apprehension with which he regards the nostrum which the good chemist is preparing for him is probably only too well founded. This painting which is of considerable size, 47 x 59, is very carefully rendered in allthe details of the laboratory, but with somewhat of the same preponderance of blues that appears in the snow of the artists' other contribution to the Exposition. 'The Result of High Living' was first exhibited at the Royal Academy of 1892, and the snow picture, "Adversity," at that of 1889. At that of this year he shows a somewhat more imaginative conception, a little girl with the moon behind her, hastening through a brambly moorland, 'Pixy-led.'"