The Victory of Faith
Painted by St. George Hare
(Great Britain)
Etched by Charles Bernard De Billy
M.H. 1883-Med. 3e cl. 1890-Sre S. D'A. F.

Larger images: 750x500 pixels or 1500x1000 pixels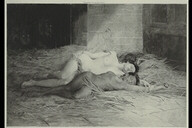 "In this painting, first exhibited at the Royal Academy in 1891, the artist illustrates his subject by the calmness with which the two Christian martyrs sleep on their straw on the eve of their dreadful death and almost within the reach of their fiery-eyed executioners, glaring at them through the bars of their cage. He does not give the names nor the dates of these innocent victims, dusky and fair, and it is very probably that he invented the incident for the sake of the picture. He is a frequent exhibitor at the Royal Academy, but does not confine himself to "grand" subjects, - his other exhibit in the English section of the Fine Arts building, for instance, being an important study of a handsome young lady seated in front of a large circular mirror in which her reflection is seen."